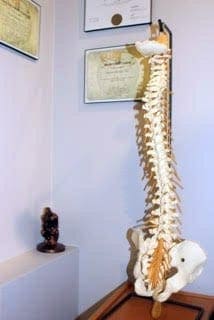 If you are suffering from an acute or chronic injury, or are looking for general wellness care, Calgary based chiropractic care Back & Body Health is the place for you. Dr. Ryan J. Hoover and Dr. Michael Caione use a multi-disciplinary approach to treatment and possible treatment options include advice & education, range of motion & strengthening exercises as well as traditional adjusting or joint mobilization. Most importantly, self-management strategies are included in order to include you as a partner in your treatment plan. Back & Body Health offers a well-rounded approach to health care, which can often complement other therapies that a patient may be currently receiving.
Other Health and Wellness treatments offered at our Calgary chiropractic clinic include Shockwave Therapy, Instrument Assisted Soft Tissue Mobilization (IASTM) such as FAKTR or Graston or traditional modalities such as Muscle Stimulation (Interferential Current and/or TENS) or Ultrasound. Our knowledgeable professionals are there every step of the way to provide you with an accurate assessment and specified treatment plan.
Various types of therapies may be used depending on your particular condition and comfort level. In addition, KT Tape, supplements and other nutritional products may be recommended during your treatment in order to aid in the recovery and rehabilitation process and improve overall health.
---
Back & Body Health Chiropractors
---
Frequently Asked Questions